Get Your Best Butt with these FitBarre Moves
Are you still dreaming of owning the perfect set of glutes? Let's face it, it's a hot commodity that you can't buy. Well, technically, yes, you can undergo buttock implantation, but it pales in comparison to the real thing, not to mention the cost, the pain and risk of anesthesia and infection. The perfect derriere is the fitness enthusiast most coveted ASSet, and there's no other way to obtain one without sweat and a lot of hard work. So ladies, here you go- I put together some of my favorite fannyblasters from our FitBarre classes. All you have to do is show up to class, zip your lips, and put your mind into your AHEM, muscle!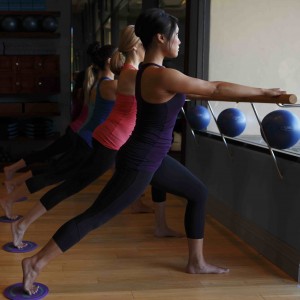 Sliding Lunges: A signature FitBarre move, this is one of the best booty-kickers. Start standing tall with both feet together, belly to the barre with the ball of your right foot in the center of the disk. Start to slide back by pushing your right foot back and bending the left knee. Keep sliding until you are in a deep lunge, with the left knee over the left ankle. Keep the abdominal muscles pulled in tight with the crown of your head lifting toward the sky. Then, take a deep breathe, engage the left glute fully as you draw the right leg in, squeezing your left glute as hard as possible to do so, until you are back to the starting position. Do 8 reps at a slow tempo, followed by 8 reps at a medium tempo, then finally 8 reps at tempo. Repeat on the opposite leg. For more work, hold a 5 or 8 lb weight in your left hand while keeping your right hand on the barre.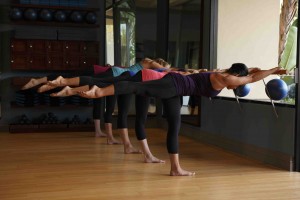 Arabesque: Pull off the barre with both hands as you bend over and stack your hips over your ankles. Extend your right leg straight behind you with a pointed toe. Keep your hips pointed toward the floor. Pull your belly button deep into your spine to engage your abdominals and protect your back. Start to pulse up 2 inches moving from the hip/glute. Stay strong in the center as you pull off the barre and put your mind into the working glute. After 16 pulses, lower your toes to the floor and touch and quickly lift the leg back up to tabletop position all the while keeping your core tight. This movement should initiate from the glute. Do 8 reps followed by this variation: Cross diagonally behind the leg and bring back to center tabletop starting position. Do another 8 reps. Stretch the right glute and repeat on the other leg.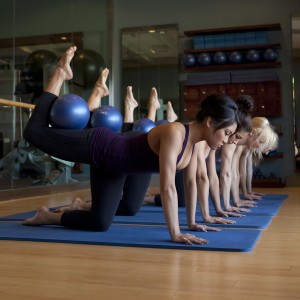 ButtBlaster with Ball on Floor: Start on all fours, then place the ball behind your right knee and curl over it. Place your shoulders over your wrists and your left hip over your left knee as you lift your right thigh up parallel to the floor. Pull your navel into the spine and begin with tiny pulses toward the ceiling. It is very important to pull the abs in and keep a neutral pelvis by "tucking" the pelvis under slightly. Do 16 reps followed by a 2 count buttblaster-Bring your right knee down and in so it is parallel to your left knee, then back up to starting position by contracting the glute and keeping that tuck. Do 8 slow and then 8 tempo. Finish off with 8 more pulsing reps. Switch legs.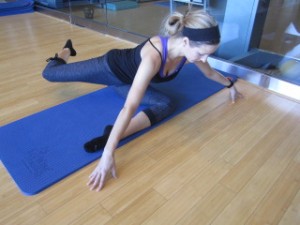 Pretzel: Sit with your left leg in front and right leg behind with knees bent as shown in the picture on the left. Grab your right ankle with your right hand, lift your knee off the ground, and pull it back further behind your hip than before. Now lean forward and slightly to the left diagonal in order to facilitate lifting the knee off the floor at least an inch or two. Hug the abdominals in and engage the right glute to lift. Keep lifting in a pulsing fashion, keeping the knee off the floor and lifting from the side of the glute. Do 16 pulses. Now "wrap" the right leg over to the left in tiny pulses-16 reps, contracting and releasing the glute. Do another 16 reps. Then try the combo: lift up an inch, wrap over an inch, lift up an inch, wrap over an inch. Do this 8 times. Finish off by leaning a bit more forward and just pressbacks, but this time with a flexed foot. For more challenge, try taking one or both hands to prayer position.
Subscribe to Our Newsletter
Get motivating health and fitness articles sent directly to your inbox.
Tags: barre, barre classes, butt, Glute exercises, newport beach, orange county, personal training, Pilates, seat, training
Here's your chance to leave a comment!