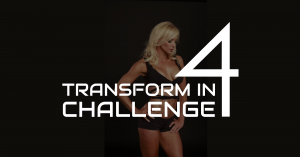 Have you over-indulged over the holidays? Are you ready to get back on track?
The Transform in 4 Challenge is a 28 Day Challenge (plus 3 Prep Days) aimed at resetting your mindset and habits to help you lose weight quickly, eliminate sugar cravings and dramatically increase your energy!
You will get:
A 28 Day Plan with no calorie counting
A delicious recipe book and sample meal plan
Tips and instruction on bulk cooking and meal prep
An app to check in each day and be accountable to me to help you stay on track
Access to our private Challenge Facebook Group
Short, daily nutrition lessons delivered via the app
Tips, information and support given by methrough the Challenge
At home, no-equipment workouts for those who prefer to work out at home
3 Prep Days Start on Friday, January 11th
 Official start day of challenge is Monday, January 14th
Prizes Awarded for Top Winners*
 1stPlace IV Therapy Treatment by Pure Aesthetics + Wellness
 2ndPlace Express Pure Signature Facial by Pure Aesthetics + Wellness
 3rdPlace Bellagio Blow Out & Style
 *Top 3 Finishers are those who lost the most % of their bodyweight.
20% discount cards to Living Fitness Shop (apparel) awarded to all participants who are compliant with their check-ins and Facebook Weekly Challenges
 Early Bird Special  $96
(20% off- Regular price is $120)
Use coupon code EarlyBirdT4