Pricing
Single $24
5 class $100 ($20/class)
10 class $190 ($19/class)
20 class $360 ($18/class)
30 class $510 ($17/class)
Recurring Monthly Unlimited $159/month (4 month minimum)
1 Month Unlimited $175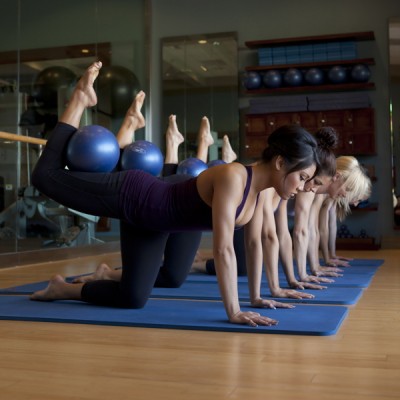 Check out our special promotions page for new clients, referrals, and seasonal specials!
GROUP STUDIO POLICIES
FIRST TIME CLIENTS: Please arrive at least 10-15 minutes prior to class start time to fill out paperwork and get acquainted with the instructor. First-time clients will not be admitted to class once the class has commenced.
BRING TOWEL, WATER and SOCKS: Bring a hand towel, bottle of water, and socks. It is VERY IMPORTANT to always bring a bottle of water. Most of our classes are cardio-intensive and water is necessary for hydration. Please bring a small hand towel. The hand towels in the gym area are for training clients only. You will need to bring grip socks for the barre classes. We sell ToeSox and Crescent Moon grip socks in the studio for your convenience. For Bikini Bootcamp, you will wear athletic shoes.
GYM AND FACILITY USE: Use of the gym or gym equipment outside of the studio is reserved for one-on-one Personal Training clients only. If you are interested in purchasing a Personal Training package, please inquire at the front desk.
LOCKERS/SHOWERS: Lockers for FitBarre clients are provided in the group studio. Lockers in the locker room and the showers are for use by Personal Training or Pilates one-on-one clientele only.
CELL PHONE USE: We do not permit the use of cell phones inside the studio. If you need to place a call or send a message during class, you must leave the studio.
CLASS PACKAGES: Class series packages expire 6 months from the purchase date. Monthly unlimited packages expire one month from date of activation. All packages are for individual use only and are non-transferable and non-refundable. Special promotional packages may have shorter expiration dates. Single classes, workshops and memberships are non-refundable.
RESERVATION POLICY: Classes fill up fast, so we highly recommend reservations for class. Classes can be reserved in person, by telephone or online. A positive account balance is needed to secure a reservation. Restrictions for monthly unlimited clients apply: no more than 1 reservation per day.
CANCELLATION POLICY: Reservations for group classes may be cancelled online or by telephone with no charge up to 1 hour prior to the beginning of class. If you late cancel or no show, you will be charged for the class (unlimited clients lose 2 days from their month).
LATE ARRIVAL POLICY: If you have a reservation for a class, please arrive at least 5 minutes before the start of class. If you do not arrive by the class start time, your spot may be given away to a standby. If you are running late, you may try calling the desk to let us know to hold your spot.
WAITLIST POLICY: Classes fill up quickly, but spaces open up regularly due to peoples' unpredictable schedules. We allow 5 people on the waitlist, so if the class you wish to attend is full you may add yourself to the waitlist. As soon as a spot opens up in class, the first person on the waitlist will be automatically bumped into class and an email notification will be sent out. If possible, please confirm online or by calling us (949-640-2300) to let us know whether or not you will be able to attend.
Being bumped off the waitlist into class means you are IN CLASS and therefore responsible for confirming or cancelling your spot. If you get into class from the waitlist, do not show up for class and have not canceled your reservation 1 hour before class, your spot may be given away and you will be charged for class. If you get into class from the waitlist and are already scheduled for another class, you will need to cancel your reservation for your other class online or by calling us. If you do not cancel, you will be charged for class (unlimited clients lose 2 days from their month).